First single breed standard milk launched by Lewis Road Creamery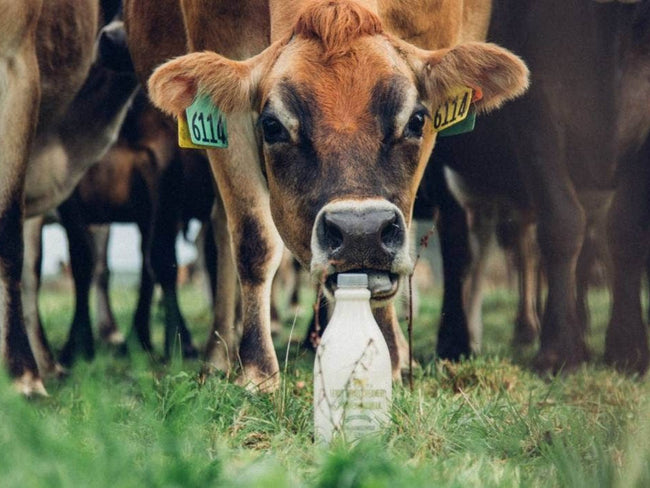 Lewis Road Creamery has unveiled a new range of standard milk on sale in supermarkets sourced solely from Waikato jersey cows.
The move is the first time a standard milk product from a single breed has been released in New Zealand.
The company already produces organic jersey milk and the move to have a standard milk would be an affordable alternative for New Zealanders, co-founder Peter Cullinane said.
"Our customers want to know the provenance of their dairy, they want whole products that haven't been over-processed, and they want to be able to taste that difference," he said. "With a single-breed standard jersey milk we can do all those things, and at a more accessible price for consumers."
"We've gone to huge effort to segregate the supply coming from our jersey herd and to leave it as untouched as possible from the shed to the shelf."
In standard dairy industry practice, milk producers mix the milk from various breeds of cow, break the combined product apart, then reassemble it using permeate to create a standardised protein content.
Lewis Road's processor, Green Valley Dairies (GVD) had been collecting milk from Chinese-owned Theland Farm Group's farm at Collins Rd, just south of Hamilton. The farm had a jersey herd whose milk was going into its general collection.
Cullinane approached the company and asked if it was interested in supplying them with jersey milk under the Lewis Road label, and it was. The first collection was made on May 28 in time to be processed and bottled for its launch on May 30.
While this farm was the first to supply the milk, Cullinane was also speaking to others including Auckland-based dairy corporate Southern Pastures, who have a sizeable jersey farm in southern Waikato. This would help give Lewis Road a consistent supply curve.
He also spoke to jersey breeders at the breed organisation's annual conference earlier this week.
"They're over the moon. We can add farms as demand racks up, but at this stage, Theland have an existing relationship with GVD and with us and Southern Pastures are an investor in Lewis Road and they are very keen for us to draw on their herd which we will and we'll go from there."
Lewis Road's other fresh milk range is sourced from organic farms and the jersey milk would not have the issues around milk price volatility that can occur on organic farms.
The milk's retail price is well below its organic pricing and slightly above the standard branded milk.
"I can see no reason why it shouldn't be New Zealand's favourite milk in due course and to be New Zealand's favourite milk it's going to have to be really good and priced reasonably," he said.
Cullinane said he loved the "dairy redemption" story of the Collins Rd farm. A former farm owned by the Crafar family, it was in a state of neglect when Theland bought it.
"It's gone from being one of the worst farms in the world to the investment that Theland has put in is extraordinary. We love the fact that this same farm is now producing the best jersey milk in the country."