Lewis Road launches premium butter at discounted rate for New Zealanders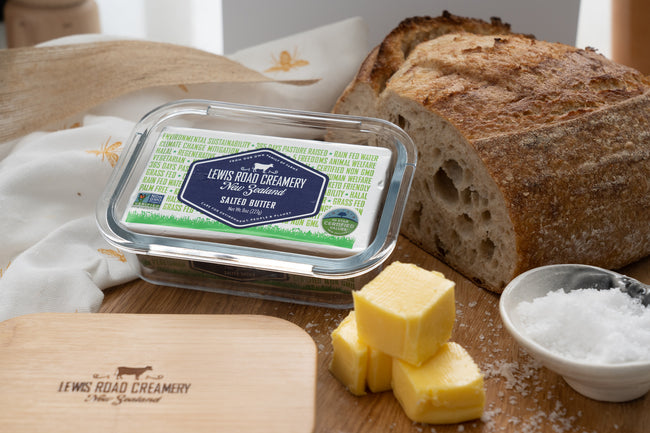 Butter aficionados are in for a treat with Lewis Road Creamery's premium butter finally available in New Zealand supermarkets.
The grass-fed, traditionally churned butter launched in supermarkets on Monday, two years after it became the first New Zealand dairy product to be stocked by US grocery chain Whole Foods Markets.
In New Zealand, the butter has a recommended retail price of $7.49 per 227-gram block. In the US, where it is often the most expensive butter on the shelf, it has a current retail price of more than NZ$10 a block.
Prem Maan​, executive chairman of Lewis Road Creamery and its parent company Southern Pastures, said the lower price for New Zealand consumers was to acknowledge the butter's local provenance and the reduced transport costs of selling it at home.
The butter is made from Southern Pastures' own cream which meets independently audited 10 Star Certified Values, which cover criteria including grass-fed, free-range, animal welfare, environmental sustainability, and climate change mitigation.
"The reality is that it costs a lot to farm the way that we do. For example, at least 34 cents of every pat of butter is directly related to environmental sustainability and climate change mitigation costs incurred on-farm, and these are just two of our 10 values," Maan said.
"We believe that New Zealanders with discerning palates and with an interest in genuine sustainability will support us, knowing that we are investing back into our land, soil and water."
Southern Pastures' cows are fed a 99 per cent grass and forage-based diet which is GMO and PKE-free, a decision the company made to preserve global biodiversity, reduce its carbon footprint, and provide the healthiest dairy possible.
"We don't feed our cows cheap imported feed to pump up milk production when we have low seasonal grass growth. So, we invest in growing, storing and feeding-out a proper locally grown forage-based diet, as we believe that is one of the requirements for sustainable farming," Maan said.
Southern Pastures is also investing heavily in native plantings, soil sequestration of carbon and other greenhouse gas mitigation initiatives.
Maan said that investment was part of a strategy to have its farms achieve carbon-neutral – and eventual climate-positive – status through farming practices, rather than buying carbon credits generated through planting exotic single-species forests on productive land.
"In the States we've been able to command our premium due to these sustainability measures, and also the exceptional quality of the butter and its nutritional profile. We are proving that educated consumers want and are willing to pay for values-for money."
To view the original article, click here