Vanilla and mint chocolate take out the title of best icecream in New Zealand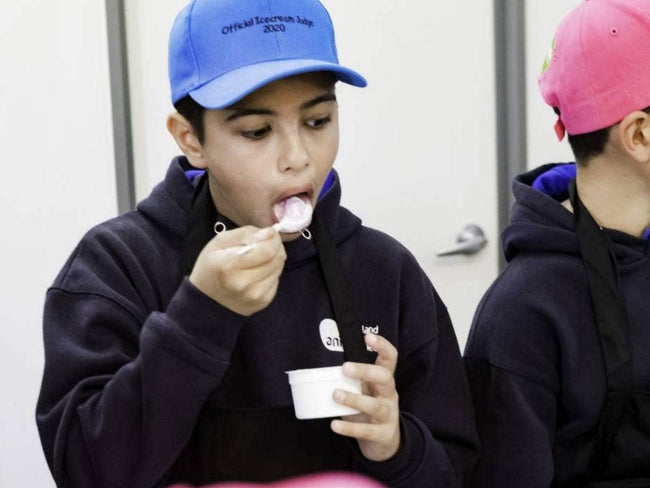 By Verity Johnson. 
This year, the glittery, frosted crown of New Zealand's top icecream was bestowed upon two unlikely flavour contenders; vanilla and mint chocolate.
The NZ Icecream Awards 2020 unveiled their two champion sweets: the NZ Icecream Manufacturers Association Supreme Champion award was scooped up by Much Moore's 'Awesome Vanilla Ice Cream.' While Lewis Road Creamery's Double Mint and Dark Chocolate icecream won the Formula Food's Supreme Boutique Champion gong.
And while some may call vanilla too plain, and mint chocolate has long divided family allegiances, the judges' decision urges audiences to suspend any hesitation they may have.
Chief Judge Jackie Matthews said both had perfected their product.
"Ingredients used, recipes, processing controls, packing, and freezing – it's the attention to detail in every aspect and bringing it together with the right balance which achieves excellence."
Matthews describes Much Moore's Awesome Vanilla, which comes from an award winning lineage of icecreams including NZ's Best Hokey Pokey 2012, as superbly smooth and creamy. It also took out the top spot of Champion Premium Vanilla ice cream.
It's also a favourite for modern day Willy Wonka himself, Marcus Moore, who's the founder of the Much Moore dairy dynasty. He fiercely defends vanilla from being boring.
"I love vanilla – take it from me, I've been making icecream for 25 years!"
The secret is its versatility.
"It goes with everything from creme brulee to fruit. There's nothing better than a very delicate flavour of a vanilla icecream," enthuses Moore, "it's like a lobster or crayfish there's something so special about it."
He was raised in the icy wonderland of frozen desserts (his Dad had a local icecream company called Kiwi) before launching Much Moore in 2004 to explore his vision for fresh icecream flavours.
"We were the first company to put four flavours in one tub," explains Moore, referencing the iconic 2005 Awesome Foursome icecream made of gumdrops, cookies & cream, vanilla and chocolate.
They started out selling a few thousand units a month - now they make 120,000. Likewise, the team has swelled from a dozen when they began to just under a hundred, although they've been in the same icecream factory on Auckland's North Shore for 25 years.
They've been entering the NZ icecream awards for almost as long - and are predictably ecstatic about the win this year.
"We've been entering the awards as long as they've been going," which is well over 20 years, "they're a massive deal in the industry."
"If you win here in NZ you're right up there globally. We've got a reputation as one of the best icecream producers in the world."
Speaking of world renowned brands, Lewis Road Creamery's winner, the Double Mint and Dark Chocolate, was described as "superbly crafted" by head judge Matthews.
"The flavour was fresh peppermint with a hint of spearmint, perfectly balanced with chocolate flakes. Rich and creamy, it had a lovely chocolate melt."
The melt is in part due to Lewis Road Cremery's emphasis on high fat, super indulgent, softly scoop-able ice cream across all their ice cream products – they place special emphasis on the scoop.
"We were talking around the kitchen table," says Nicola O'Rourke, General Manager of Lewis Road Creamery, "and we agreed it's so annoying when you have to wait for the ice cream to thaw before you scoop into it. You don't want to sit around having a regret moment, you want to eat it now!"
The double mint and dark chocolate is similarly indulgent in its ingredients.
"It has both natural peppermint and spearmint together, which is an unusual combination," explains O'Rourke, "and then the chocolate isn't chocolate chips, it is actual shards of 72 per cent dark chocolate. We like to call it an adult take on mint choc chip."
She also acknowledges that the mint chocolate flavour can be a divisive one.
"I think people judge mint chocolate icecream on the after dinner mints of the 70s and 80s," she explains, "when that was the most decadent thing you could get as an after dinner treat!"
But this isn't that, rather it's a treat for dark chocolate lovers. "If you love dark chocolate, and like a refreshing bite to your palate, this is you. It's a beautifully fresh dark chocolate moment – not an after dinner mint!"
Lewis Road moved into making premium ice cream about five years in to launching its premium dairy brand in 2012.
"International brands were flooding the market, and we sat around thinking, we have some of the best dairy in the world, so why aren't we making the best icecream in the world?" explains O'Rourke.
"New Zealand can do better than this!"
Hamilton born, millennial favourite Duck Island has also been recognised this year with the People's Choice award for their Fairy Bread icecream.
It's their first time entering, and the multicoloured, nostalgia soaked treat has always been a crowd favourite.
"It's definitely my kids favourite! I think it's the sprinkles...." says Duck Island co-founder, Cameron Farmilo.
The boutique brand has rocketed into the hearts of the young and hip since beginning in 2014. And a large part of that is due to feel-good romantic flavours such as Fairy Bread.
"We buy a local brioche and then soak that into the mix," says Farmilo, "and then when you taste it, there is this incredible buttery flavour."
Farmilo credits their success to all three owners' background in restaurants. He and the other two founders, Morgan Glass and Kimberly Higgison, used to own Hamilton restaurant Chim Choo Ree.
It was a fine dining restaurant with a deliberately relaxed environment.
"Coming from that fine dining background taught us that you can't keep doing the same boring flavours."
It was at this restaurant that they developed their iconic miso and white chocolate icecream, which kicked off their entire journey into professional icecream.
"We served it in the restaurant, then we entered it into the Cuisine awards and when it did well, so we were like, right, we'd better take this seriously and start packaging it!"
But all in all they just make things they want to eat themselves.
"We make it for ourselves," says Farmilo.
'"It's not about overheads or profit or a product to put in supermarkets. It's about making what tastes great, and we want to eat."
To view the original article, click here.